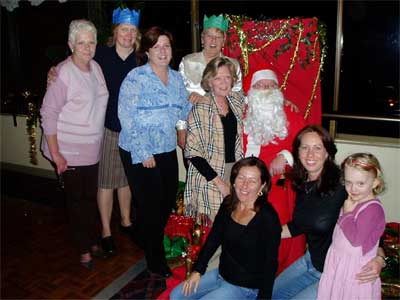 All the girls at the Xmas in July 2005 dinner with Santa

We have plenty of social activities spread out over the year, including BBQs at members' homes and restaurant nights. Each year in February we have the Club's Anniversary Dinner that celebrates the Club's founding. We normally have one or two more dinners throughout the year. See the photos page for photographs from some social events.

We also have regular family dive days where we dive and then have a BBQ at the dive site at which families of members are encouraged to attend. In addition, we have a Christmas Party, usually in conjunction with a dive. The Club normally provides the food for the Christmas Party. Some of the places where we have had this party is Captain Cooks Landing Place at Kurnell and Oak Park at Cronulla.

Other activities include visits to hyperbaric chambers, dive conferences, dive talk nights, the Sydney Boat Show and equipment displays. In recent years members have gone on bushwalking trips, both local and overseas, as well as 4WD trips to places like Cape York and the Outback.